Residential Market report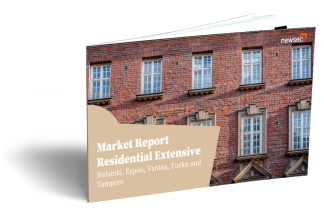 € 2,975
Excl. tax
SKU:
P2051273
Type:
Annual subscription
Quantity:
Newsec provides the most extensive residential data on the market for all parties involved in the residential market. The Residential Market Report provides comprehensive residential market data for Finland's major submarkets in the Helsinki Metropolitan Area, Turku and Tampere.
In the same package, the report includes data on rental levels in the submarket, price levels for building rights, yield requirements, and price levels for residential apartments. The unique market information package provides data to support our customers' decision-making process. Data is based on actual data points and includes Newsec's view.

This comprehensive and up-to-date market information is not available elsewhere. The residential market report, which includes 38 submarkets, is updated three times a year.

Our Residential Market report gathers the following parameters:

· Rental levels per apartment type
· Newsec's view of rental levels of new apartments per apartment type
· Demographic information
· Major ongoing residential projects
· Apartment price levels per apartment type
· Summary of the submarket
· Yield requirements for new production
· Price of building rights


The report is distributed three times per year at a cost 5 950 € + VAT / year/ Company. For the new customers, we offer the first year subscription with a 50% discount.