Residential market report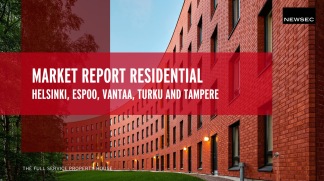 € 1,825
Excl. tax
SKU:
P2051274
Type:
Annual subscription
Quantity:
Newsec provides residential market data for Finland's major submarkets in the Helsinki Metropolitan Area, Turku and Tampere to support our customers' decision-making.

The report includes a compact data package on rents and prices per sqm for different apartment types. Data is based on actual data points and includes Newsec's view.

This comprehensive and up-to-date market information is not available elsewhere. The residential market report, which includes 38 submarkets, is updated three times a year.

Our Residential Market report gathers following parameters:

· Rental levels per apartment type
· Newsec's view of gross market rental levels of new apartments per apartment type
· Demographic information
· Major ongoing residential projects
· Apartment price levels per apartment type
· Summary of the submarket


The report is distributed three times per year at a cost 3 650 € + VAT / year/ Company. For the new customers, we offer the first year subscription with a 50% discount.